Why does the USA need High Speed Rail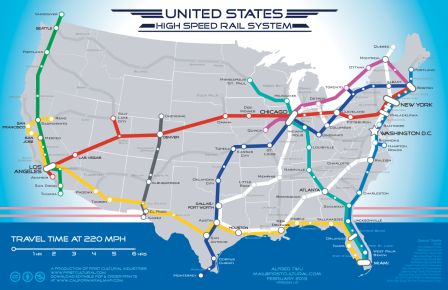 The United States of America is approximately 2,900 miles from shore to shore, and 1,100 miles border to border, depending from where you start and end your trip. We have a terrific highway transportation system, and we have both rail and air systems for transversing the country, but ……

First our road system is slow for trips of most any distance, with the average speed about 45 MPG, which means driving 8 hours per day a person will cover 360 miles, and it will take about 3 days to drive border to border, and 8 days to drive coast to coast; many do it faster, but by breaking speed laws or driving much longer each day, which is not good for one's health and safety.

Our airlines can travel at about 550 MPH, but when you add in the travel times to and from the airports, the security check in times, the runway delays, etc. which average about 4 hours, that first 550 MPH now drops to about 100 MPH; this doubles to around 200 MPH on a border to border trip, and 400 MPH on coast to coast trip.

Using the current Amtrak Passenger Rail system is usually faster in those short 100 to 300 mile trips, and coast to coast runs than using a vehicle, but slower than aircraft on the longer over 100 mile runs. This is due to the current average speed of Amtrak of 77 MPG for most of the USA, and the 'high-speed' 110 MPG of the New York to Philadelphia run.

High Speed rail is and has been used in Japan and Europe for about 35 to 40 years and they have developed very fast and very safe trains that move millions of people per year efficiently and at very low per mile cost, without much pollution being generated. High Speed Rail (HSR) uses electricity that can be, and usually is, generated by the Alternative Energy Sources (AES) like Solar, Wind, Wave, Hydroelectric, Nuclear, and other clean-energy fuels.

The USA originally proposed and pioneered much of the world's HSR back in the 1960's during the USA Golden Age of Technology. Unfortunately we in the USA were just starting to build the Interstate Highway System (IHS) that was started by President Dwight Eisenhower (R), and has over the last 50-years continued to be created, thus generating tens of millions of construction jobs, and millions of businesses across the USA. This highway construction boom put the dampers on passenger rail, and both light rail and HSR suffered from this, and the technology tended to disappear from the USA and reappear in Japan and Europe, where is has flourished and been a tremendous economic asset to those foreign countries that are using and exporting the systems.
Rail vs Flight:
The Japanese in the 1980's wanted to build a HSR system from California's major cities to Las Vegas, Nevada, only to be turned down by those that by now had a economic boom in oil and gasoline, the fuel used for powering the tens of millions of vehicles being used on the nation's roads. President Jimmy Carter (D) wanted to advance alternative energy, AES, but the new President Ronald Reagan (R) did what he could to stop all but a very small contingent of government from advancing the AES, and thus the HSR systems. He advocated for more airlines and an expansion of the airline industry that is using billions of gallons of jet fuel per year, and of which is causing our air to become dirtier and dirtier each decade. If you are an old timer who has been flying since the 1950's you have over the decades seen the blanket of filth develop on the horizon, as the blue sky of the 1950's turned to red and browns of the 2010's. This pollution is causing medical, physical, and environment harm to billions of life forms worldwide, and is part of the Global Warming theory.

Trains do use fossil fuels like diesel fuel and some of the small tourist lines still us coal fuel, but the East Coast Northeastern trains mainly use electric and so will the HSR systems. California is about to build a HSR from San Francisco to Bakersfield, to Los Angles and San Diego, with a spur line to Las Vegas. The idea is to get Washington State and Oregon to join in and produce a border to border, Canada to Mexico, line that can cover the 1,100 or so miles in less than 8 hours, which will be much faster than car and equal that of the airlines, if not even faster. For sure it will be more comfortable.

Rail has the advantage of taking the stress and the hazard content out of traveling; one sits back in comfortable seating, has tons of walking space, has restroom facilities and in some instances showers, has dining facilities, sleeping facilities if wanted, and has in many instances a bar, entertainment, and great sightseeing. The major disadvantages are the locations to airports and rent a car agencies, and the limited number of long-haul trains.
Tourism in the U.S.A.
At one time in our Nation's history we had the 'Tourist Loop' which included a railroad that ran from National Park to National Park in Washington, Oregon, Idaho, Montana, Nevada,
Wyoming, Arizona, and California. It connected Glacier, Yellowstone, the Grand Canyon,
Yosemite, Olympic and others together and opened the West to tourism.

Today we have millions of foreign tourist that are use to and love to travel by rail, and we should be considering reopening this 'tourist loop', with modern high speed and light rail systems that can produce billions of dollars per year for the USA and its business communities..